The Bell at Yarpole Creating a Buzz with Arts and Crafts Lunches: Delicious Food and Riveting Talks.
"A brilliant start to Arts and Craft Lunches at The Bell at Yarpole on the 22nd Feb.  The amazing world-renowned sculptor Mark Richards gave a fascinating talk on his work, it was  a privilege to listen to him.  Then, a delicious lunch, not that you'd expect anything else from the wonderful chefs at The Bell.  Fodder for the soul, mind and body and all for £20!  This event was sold out, so I'll be keeping a close eye out for the next one in the series because I certainly wouldn't want to miss out." Catherine, Little Hereford
Our second speaker on the 20th April is Iain Welch. Iain, born in Scotland, raised in Herefordshire, makes artwork inspired by his love of dogs, wildlife and the countryside. 
Our first lunch sold out in 2 days! We were turning people away.  Unfortunately 11 of the people who had booked didn't turn up so this time you will need to pay at booking.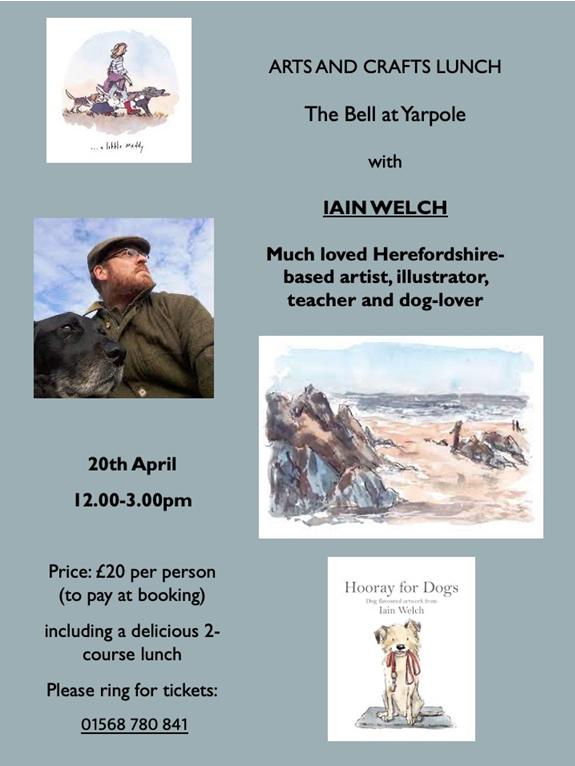 Price: £20.00 per person (to pay at booking)
For tickets please pop into or ring The Bell on:
The Mortimer Community Benefit Society was founded in May 2018 to purchase the Bell at Yarpole, a community owned pub in North Herefordshire situated midway between the market towns of Ludlow and Leominster. 257 people have become shareholders and work together to ensure the long term survival of the Bell at Yarpole. Would you like to join us? For £100.00 you can be a part owner in this 17th century heritage pub. By becoming a shareholder you are able to vote at the AGM and help direct and preserve the building. Download a Share Application form.
Our tenant, Iain Dixon, is making the Bell at Yarpole a place to visit for a fine dining experience. This is highlighted in the magazine Broadsheep review of the Bell at Yarpole. Why not give the Bell at Yarpole a try?
Registered with the Financial Conduct Authority No: 7793
VAT Registration No: 302 0648 51